ATHLETIC CALENDAR UPDATE: Saturday, Jan. 16 @ 1:00 p.m.--A&C BBB vs. Center-Stanton in New England

The junior high boys basketball game scheduled for today, Saturday, January 9th has been cancelled.

The girls high school volleyball team is planning their year end awards meeting on Sunday, January 10th at 6:00 PM in the New England Public School gymnasium. All parents and student/athletes are invited to attend.

Two additional games for the junior high boys basketball team have been added to the schedule. January 9th at New England versus Hettinger Scranton at 10:00 AM. The other game is against Dickinson Middle school on January 16th starting at 10:00 AM.

Junior high boys basketball parents need to pick up activity passes for away games. The tickets can be picked up in the New England Public School main office.

Athletic calendar changes: Friday, 1/8. BBB-AC playing IN UNDERWOOD beginning at 4:30–location change Thursday, 1/14 BBB-7&8 playing at the Rouzie Rec AT 3:00 & 4:00–time change

Consolidated will be airing the Christmas concert on January 1, 2021 at 6:00 p.m. HAPPY NEW YEAR, TIGERS!

Note changes for the sports calendar: Jan. 4. GBB-AB 5:00 & 6:30 in Underwood Jan. 7 BBB-7&8 at Taylor—CANCELED

Note changes for the sports calendar: Jan. 4 GBB in Underwood and time is TBA. There may only be two games. Jan. 7 GBB-7th will play at 5:30 at Mott Jan. 16 BBB-AC vs. Center Stanton will be played HERE and time is TBA.


Covid doesn't take a Christmas vacation. Kindly remember that the mask mandate is in place until January 18. You must wear your mask in the building. Please remind student athletes this applies to them as they enter and exit the building as well. We have a number of games scheduled over vacation. It would be a shame to lose them over a non-compliance issue.

The boys and girls basketball teams will be playing on Saturday, December 19th against Richardton/Taylor at New England. The times are: girls junior varsity will start at 11:00; varsity girls at 12:30; boys junior varsity at 2:00; and boys varsity at 3:30.

The times for the boys and girls basketball games scheduled for December 22nd versus Lemmon at New England have been changed to: girls junior varsity at 3:00; varsity girls at 4:30; junior varsity boys at 6:00; and varsity boys at 7:30. This will allow more fans the opportunity to watch their sons and daughters.

There will be a VARSITY GBB game HERE against Stanley at 5 PM on Thursday, December 17.

Tickets for the Boys Basketball game in Killdeer tonight, Tuesday, December 15th can be picked up at the New England School front office. We should be able to use these tickets thru Saturday.

All devices and chargers will be collected on Thursday, December 17. This message doesn't apply to those who are distance learning UNLESS students are planning on attending IN PERSON next semester. If that is the case, please return devices by Friday, December 18.

Just a reminder, our home games are limited to 25% capacity. Our 25% capacity is around 110 fans. Away games are limited to 2 fans per student/athletes.

Sports pictures for 456 BBB and 7-12 basketball are TOMORROW, 12/14, at 9:30 AM.

Holiday Dress Up Day Schedule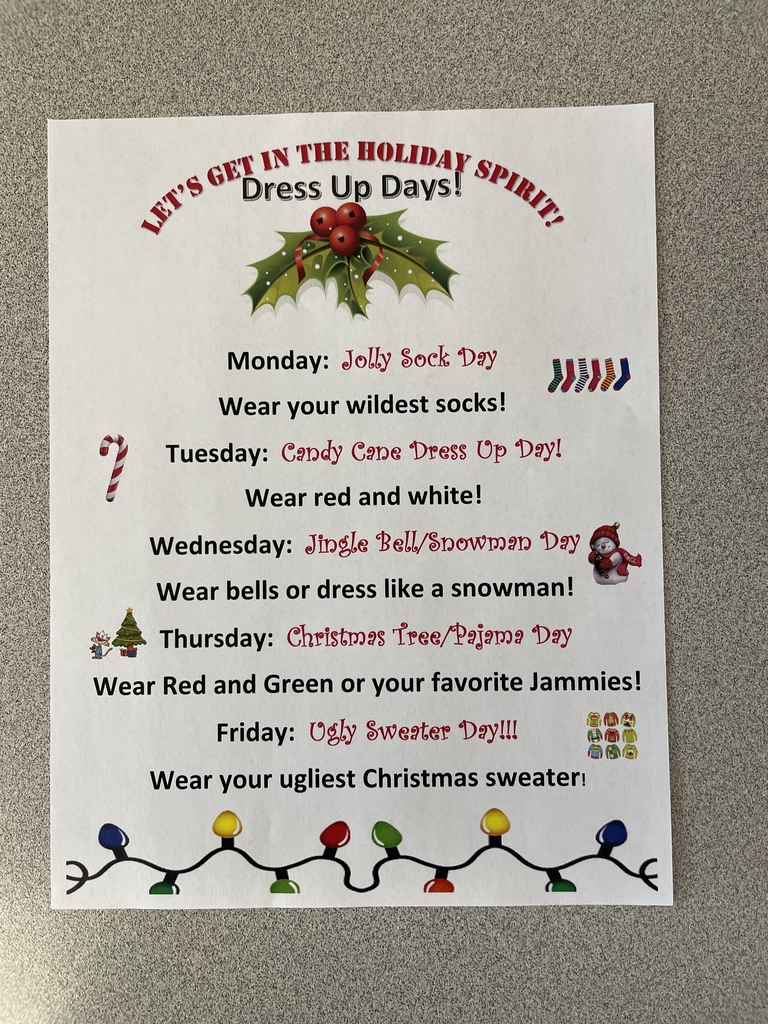 On Friday, November 13, 2020, Governor Burgum issued Executive Order 2020-43, requiring face coverings be worn in all indoor public spaces regardless of social distancing. On Wednesday, December 9, 2020, North Dakota Gov. Doug Burgum announced an extension to this statewide mask mandate until at least January 18th. Students and staff will be required to wear face coverings at all times. The Governor also announced Wednesday that high school sports competitions will be allowed to resume December 14th with 25% capacity. Region 7 also decided to allow 2 fans per student/athlete traveling to out of town events.