CORRECTION: The 456 VB game in Fairfield is at 4:30 today.

UPDATE: The 456 VB game today is going to be in Fairfield at 4:00 p.m.

Just a reminder that Hazen postponed the track meet for today.

REMINDER: If your student will be 14 by June 5th and is interested, there is an informational meeting for Driver's Ed tomorrow night (April 20th) at 6PM. It is not required, but highly suggested to attend.

There will be an informational meeting for Driver's Education on Thursday, April 20th, at 6 PM in the commons. Students can sign up in the office.

Reminder The Wax Museum sponsored by Grade 3 and the music event for Grades 1 through 4 will be on Friday, APRIL 14. The Wax Museum is open to the public from 1 PM until 2:30 PM. Families of students in grades one through four are invited during their time slot to the music room. Grade 1 will be at 1:40 PM. Grade 2 will be at 2 PM. Grade 4 will be at 2:20 PM. Grade 3 will be at approximately 2:40 PM.

We need physical forms turned in by Monday, April 17th so the clinic has time to schedule everyone.

School is in-person today, April 5. See you soon!

New England School will be having a virtual day for school on Tuesday, April 4.

IMPORTANT DATES FOR APRIL & MAY: April 6 Kindergarten Easter Egg Dyeing with Parents--Ms. Greenwood will send details to her students' families.~~~ April 7 No SCHOOL but there is an Easter Egg Hunt in the Commons from noon until 2:00 PM~~~ April 10 NO SCHOOL but 4-H has Communication Arts at 2:00 PM~~~ April 14. Grades 1 through 4 Share the Floor--Families are invited to the music room to watch their children perform. Grade 1 is at 1:40, Grade 2 is at 2:00, Grade 4 is at 2:20, and Grade 3 is approximately at 2:40.~~~ April 14 Grade 3 invites you to attend their WAX MUSEUM from 1:00 to 2:30 in the old gym. ~~~ April 19 Sports physicals at WRHS.~~~ April 26 NO SCHOOL/PD DAY~~~ May 3 Sports physicals at WRHS~~~ May 6 & 7 NEHS Spring Play at Memorial Hall~~~ May 12 Bismarck Band Night~~~ May 13 Williston Band Day~~~ May 13 Prom~~~ May 17 Pops Concert for Grades 7-12~~~ May 18 Last Day of School~~~ May 21 Graduation at 1:00 PM

As a precaution we will send devices home tonight again just in case. It seems that's the ticket to avoiding more snow 😋

Buses are running about 10 minutes late due to the Math meet kids getting back a little after normal, but earlier than expected!

2023 Math Meet in Hettinger today at 12:30. If you can't attend, you can watch live on the HPS Stream Team Youtube Channel!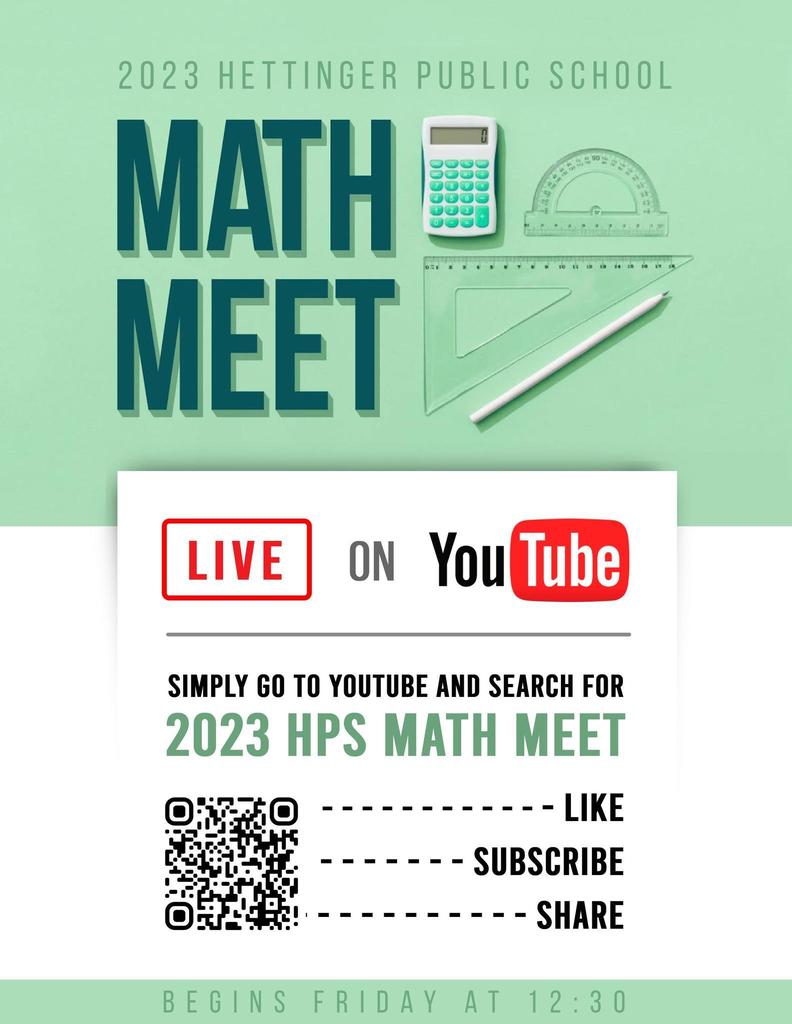 If anyone has wooden cornhole boards that they wouldn't mind our FFA using for tomorrow's 7-12th grade cornhole tournament, could you please bring them to the school by noon tomorrow (Friday). Thank you!

West River Health Services are offering sports physicals for the upcoming school year on April 19th and May 3rd. Please be sure to pick up a copy of the form and send back in.

SENIORS: We NEED a digital picture for the papers and other media. We also need a wallet size paper copy to hand in the hall. These are needed ASAP.

Basketball uniform deposit checks are being sent home with students today.

Just a quick reminder, we have Hunter's Safety starting tonight, 6-9 p.m. in the Vo Ag room. Park on the west side of the building for entrance.

FFA Week is March 27-31. The emblem will be hidden each day, one in the elementary wing and one in the high school wing. You must dress up to search for it. Trivia will be announced each morning by the FFA officers. Monday is 'Merica Monday!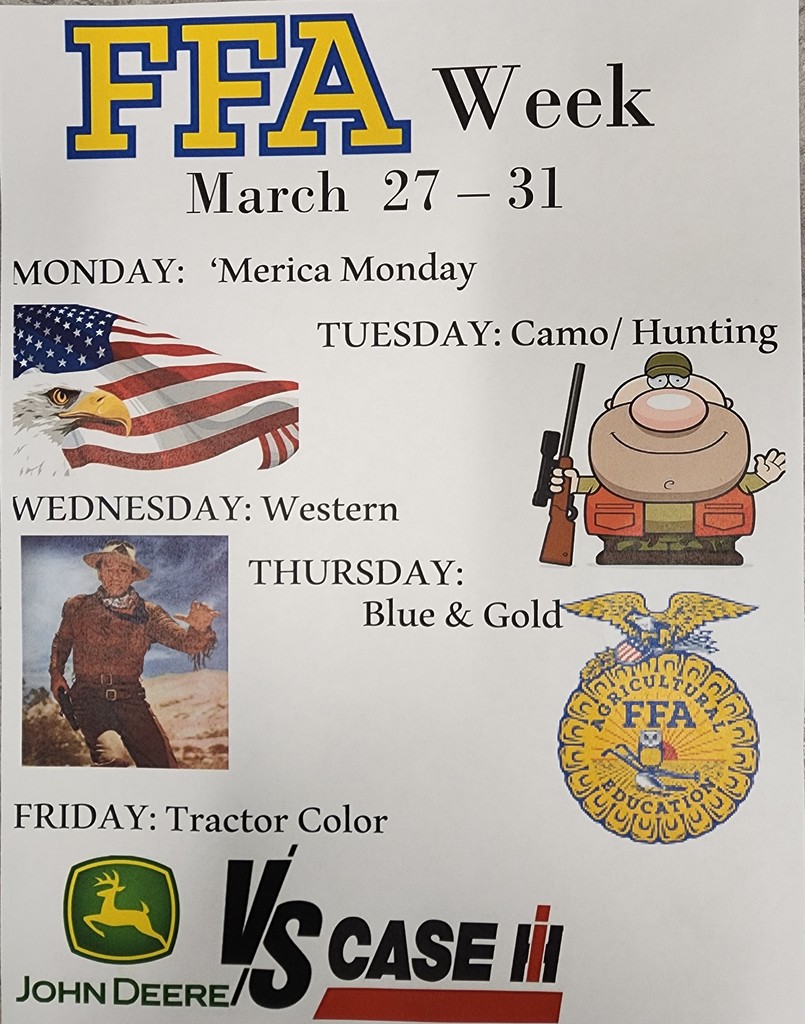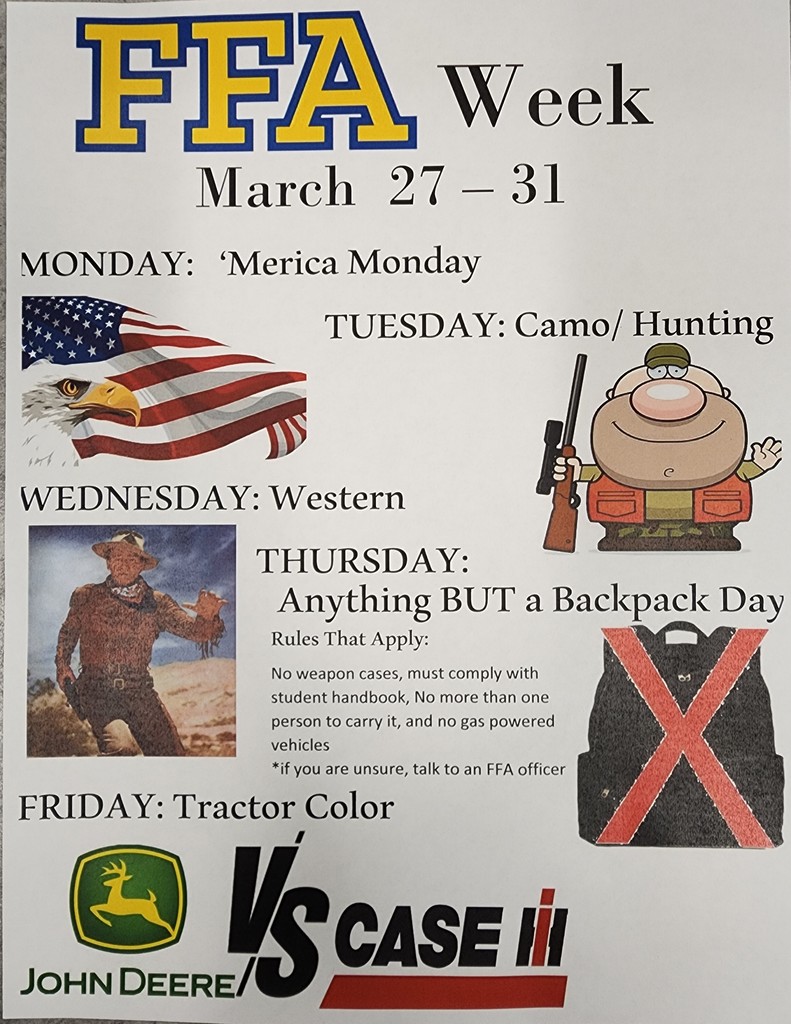 After Prom is looking for help. Please let us know if you would be willing to help.