Monday- no school. 9-12 FB Practice 4:00 @ Mott. Bus leaves NE at 3:00. Tuesday- JH-JV Game @ 4:30 MT. Leave Mott at 2:45 MT. Bus leaves NE at 1:45. Wednesday- 7-12 Practice @ Regent. Bus leaves after school. Thursday 7-12 Practice @ NE. Friday. No JH Practice. Varsity game vs. Kidder County @ NE 6:00 MT. Pep rally at 2:45 at NE. Senior Night.

Tuesday JH & HS FB Practice @ NE 4:00 Wednesday JH & HS FB Practice @ Regent. Leave NE after school. Thursday JH & HS FB Practice @ NE 4:00 Friday JH FB No Practice HS FB Game @ Richardton @ 6:00 We will dress in Mott and arrive in Richardton @ 5:00 NE FB players in Mott @ 3:30. Bus leaves NE at 2:45.

The bus for the 456 football game on Tuesday, 8/31, will leave at 3:30 pm from New England.

456 GBB practice is at 5:30 to 7:00 p.m. this evening. The girls have a game Tuesday, 8/31, beginning at 4:00 p.m. in the NEW gymnasium.

The Junior High/JV game scheduled in New England tonight, August 30th has been moved to Mott. Bus leaves New England at 2:30 PM.

New England Public School will be delaying the start of school until WEDNESDAY, SEPTEMBER 1, for students in Grades Kindergarten through 12. The first day of preschool will be Thursday, September 2. Families are invited to an open house on Monday, August 30. Stop in anytime after 12:00 PM to tour the building, meet the teachers, visit the classrooms, and drop off school supplies. Allow yourself at least 30 minutes of time if you are able. The school will close at 7:00 PM that evening. We look forward to seeing you soon!

The varsity football scheduled for August 27th against South Border has been moved from New England to Mott. Starting time is 6:00 PM Mountain Time. Our next scheduled home football game, in New England, is September 10th against Kidder County.

Grades 7-12 volleyball practice will be in the new gym. Please use the new entrance to the school.

There is no 4-5-6 grade football practice tonight. Please be sure players are at the field tomorrow at 8:45 AM. The game begins at 10 AM. Everyone is welcome! Go Tigers!

We are still working on bus routes for New England Public School. Routes should be finalized by Tuesday and information sent out to our patrons on Wednesday. Most of the routes will stay as they were last year; however, there are a couple of routes that will change.

The bus for the varsity football game today, Friday, August 20th will leave New England at 3:15 PM. Good luck!

Varsity football practice schedule for the week of August 23rd: Monday JH/JV game in Mott. Bus leave New England at 2:30. Tuesday practice in New England at 4:00. Wednesday practice in Regent. Bus leaves NE at 3:00. Thursday practice in Mott. Bus leaves New England at 2:30. Friday game in Mott against Napolean at 6:00 PM.

Are you interested in renting an instrument for your fifth or sixth grade student? Please check your email, or see the attached images for information from Eckroth Music.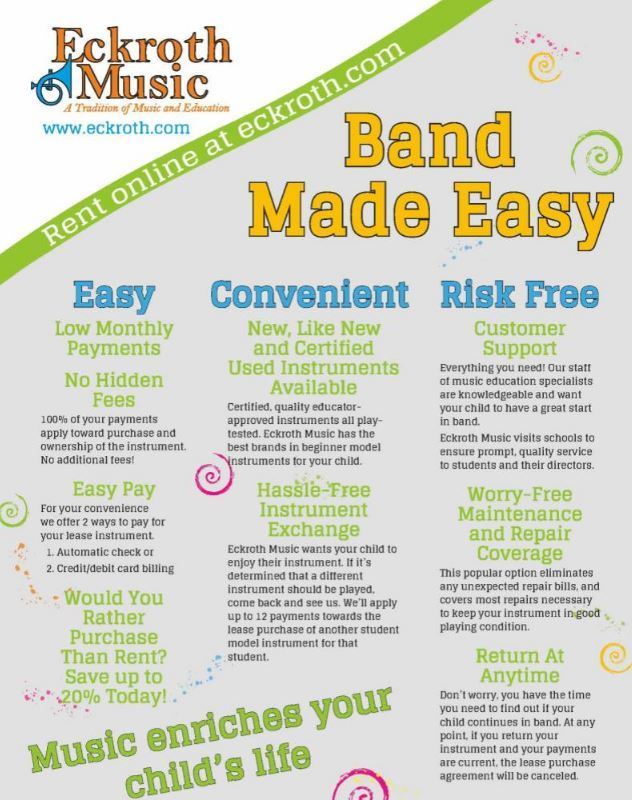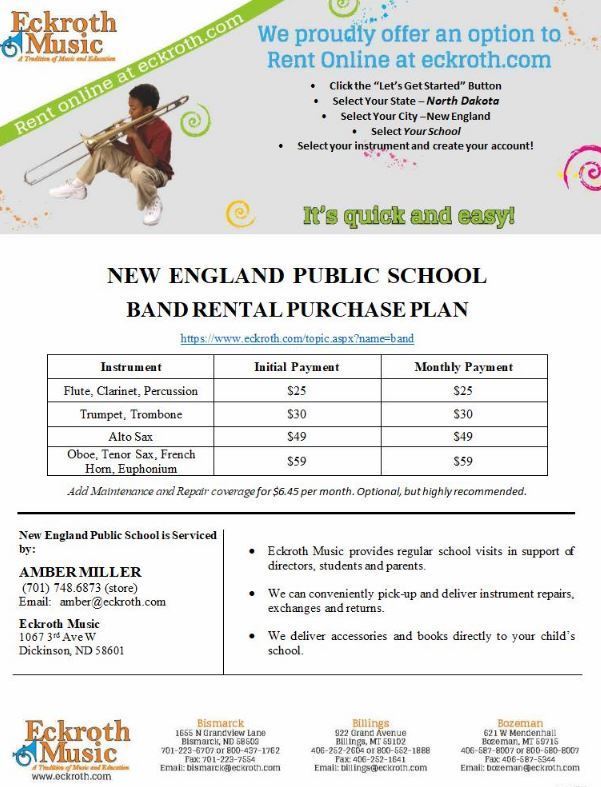 4,5,6 girls basketball practice starts tomorrow, Wednesday, August 18th at 5:30 PM until 7:00 PM.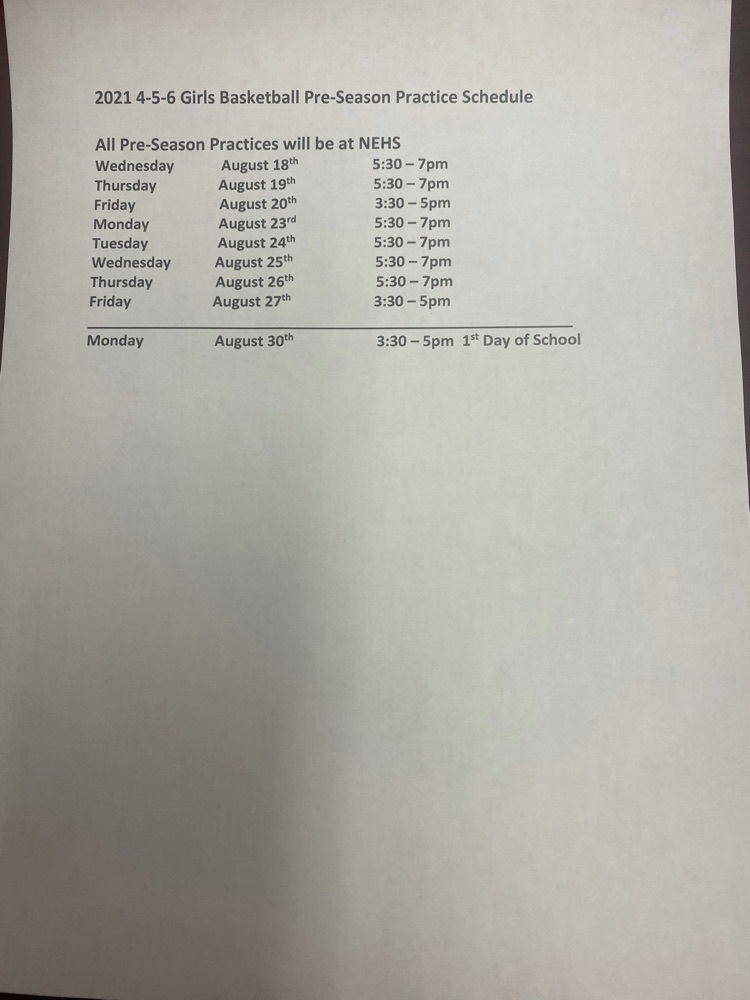 456 GBB pre-season practice will begin, Wednesday, August 18, from 5:30 p.m. to 7:00 p.m. at the school. Practice will run on the weekdays at this time and place from 8/18 through 8/26. On Friday, August 27, and Monday, August 30, practice will run from 3:30 p.m. to 5:00 p.m.

NOTICE OF DELAYED START FOR SCHOOL: School will begin for students in PreK through 12th grade on Monday, August 30, due to delays in construction. Our apologies for any inconveniences this causes. Although this is quite disappointing, it will be worth the short delay. The school board and administration had been optimistic up until today that we would be able to start on time. We hope to hold an open house after construction has concluded. Further information regarding any changes in practices or scheduled games will follow as necessary.

Order your 2021 2022 school year books at
www.treering.com/validate
Enter the school code 1014721398871683 by September 30 and get 10% off!

7-12 football practice for next week: No Practice Saturday, August 14th Monday- New England 7:30 AM Tuesday- Regent 7:30 AM Wednesday- NE 3:30 Thursday- Mott 3:30 Friday- Game Day Mott 6:00

Junior high volleyball practice schedule: August 18th 9:00-10:30 August 19th 9:00-10:30 August 20th 9:00-10:30 August 23rd 3:30-5:00 August 24th 3:30-5:00 August 25th 3:30-5:00 All practices are at the high school.

Consolidated is sponsoring Movie Night at the football field on Wednesday, August 11, beginning at 6:00 PM with games and music. This event is free and open to the public. The movie, Raya and the Last Dragon, will begin approximately between 7:30 and 8:00 p.m. Bring blankets or chairs for your family to relax upon during the show. Concessions will be available at the football field.