Yesterday's A/B GBB game that was postponed has been rescheduled for 2/10 at 5:00 p.m. in Harding Co.

There will be hunter safety course at the school March 27th-31st. Stop in the office for information.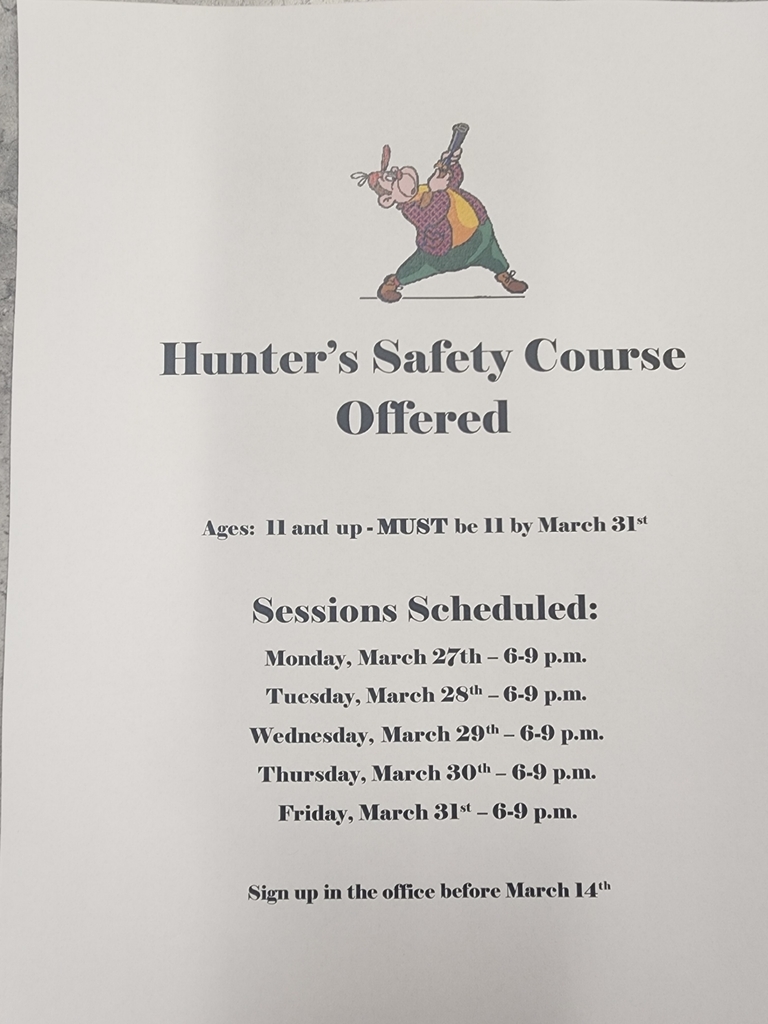 Due to deteriorating weather conditions, we will be dismissing at 12:15 today. Buses will run at 12:30, you can come pick up your student before if you would like. No after school activities today. Stay safe!

Bus 17 is running a bit late due to the road conditions. All is good, just didn't want any one to wonder what was going on.

REMINDER: GBB and BBB pictures are tomorrow, January 26. Be sure to bring uniforms.

FYI, the A/B GBB game on 2/4 that was scheduled for 4:00 p.m. has been moved to 5:30 p.m. on the same day.

We have been informed of a problem with the date for the concert. We are looking at dates in March. We will let you know when it is scheduled for sure.

Updated Boys and Girls Basketball Schedules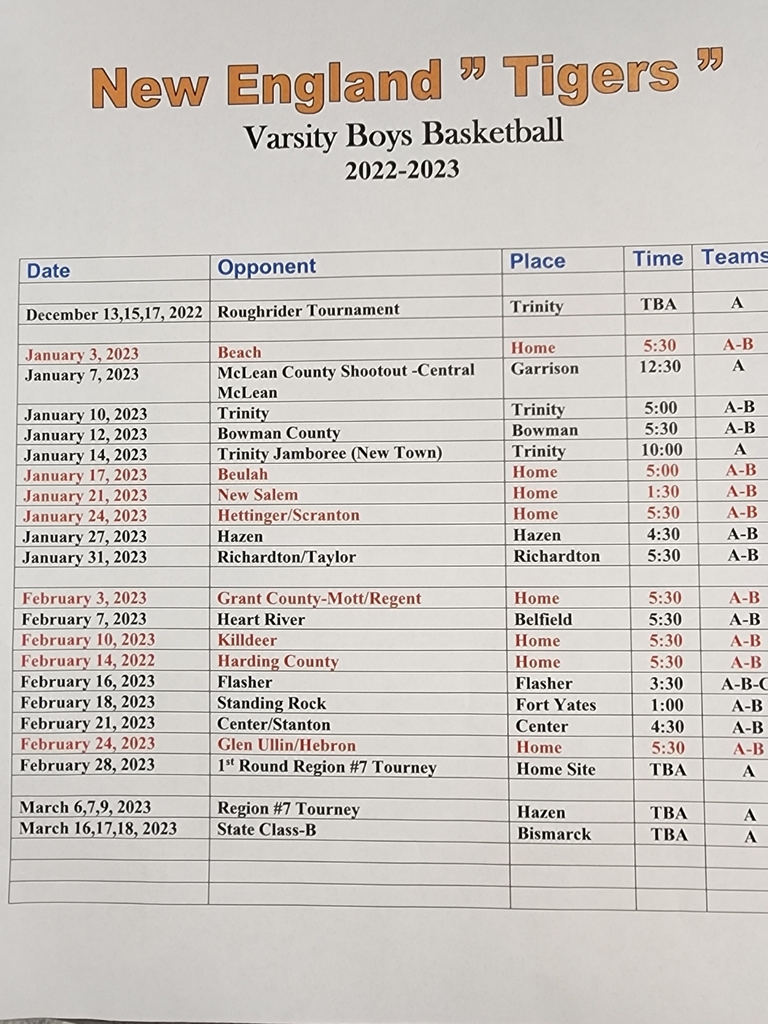 Congratulations to Matthew our FFA chapter treasurer who completed in and earned a gold award at the state extemporaneous public speaking event in Bismarck at the state FFA LDE day.

NE Booster Club Valentine's Fundraiser order form is bring sent home today with PreK-6th today. We have more copies at the front desk if anyone wants to order.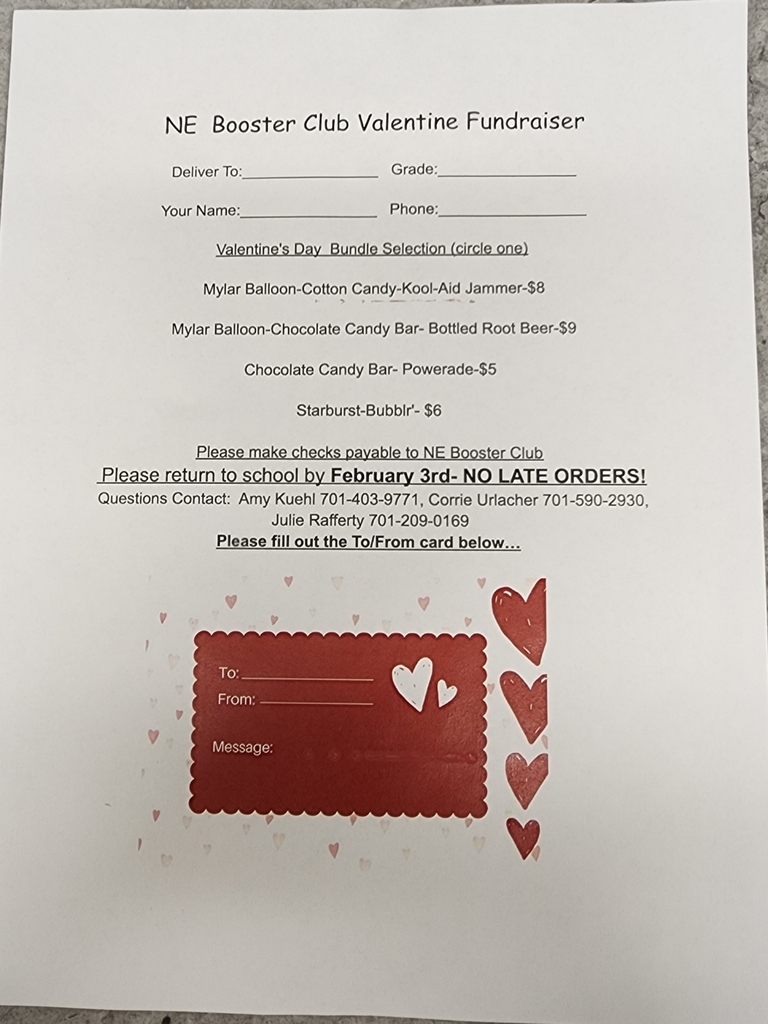 Good morning all! The Hettinger County Sheriff's office with the dog and the assistance of a dog from Stark County are doing a walk through of our school this morning. We are in a soft lockdown to allow the dogs to not be distracted. There is no threat.

Change in date for the Pops Concert. It will be on Sunday, February 19th, at 2:00. Everyone enjoy the Super Bowl!

The next concert of the school year will be on Sunday, February 12, at 2:00 p.m. in the commons area. It will include performances by the 5th grade, 6th grade, high school band and choir, 6th grade band and a guest performer. There will be an art show, goodies to eat and popular music, old and new. Please join us for a fun time and our chance to show our appreciation to parents and school staff for all the support we receive.

In an effort to reduce the numerous calls home, please remember to call the office with all absences or early releases. Texts have not been reliable lately. (701) 579-4160

Women Empowering Women to host Code: POSSIBLE – A Computer Coding Camp for Girls Girls from southwestern North Dakota entering 10th and 11th grade in the fall of 2023 are invited to participate in a FREE computer coding camp the week of June 4 through 9. Camp will be held at Dickinson Middle School. Camp kicks off with an introduction to how computers work, coding software, peripherals, and electronic circuits. Campers will use Chibitronics products that blend circuit building and programming with arts and crafts. Campers will create circuits on paper using copper tape and LED lights. Campers will also use the Adafruit Playground Circuit Express to continue coding and downloading to a physical device. Campers' complete tutorials on block based coding and downloading the code to the device. The Playground Circuit Express device is used when you want sensors, buttons, and touchpads to trigger events like lights and sound, as well as an infrared (IR) transmitter and receiver to create interactive games. In addition to the above activities, campers will create an account on code.org where they can engage with Interactive Animations and Games. Campers will be able to continue their coursework online through their CS Discoveries program account at @
www.code.org
. Each camper will keep their camp computer to make sure they have access to their Code.org account. The Coding Camp for Girls is hosted by Women Empowering Women in collaboration with the Roughrider Area Career and Tech Center (RACTC). Funding for the Camp came from a "Students Preparing for Nontraditional Fields" grant from the North Dakota Career and Technical Education program. The course is FREE. Registration is limited to the first 16 campers. Girls from any southwestern North Dakota school are welcome. Register with Ronda Shauer at
ronda.shauer@k12.nd.us
or 701-928-1676. Women Empowering Women is dedicated to the collaboration of women to meet needs and helping women become the best versions of them self. To learn more see
https://wewnetwork.org
.

There has been a "C" Squad BBB tournament on Friday January, 13th at 6:30 p.m. in Scranton. If we win we will play at 11:15 a.m. on Saturday the 14th at Hettinger otherwise the game will be in Scranton at 11:15 a.m.

RESCHEDULE: Varsity and JV girls and boys basketball pictures have been changed to January, 26 at 10:00 a.m. in the new gym.

Tonight's GBB game vs. Mandaree is now an A & B game. B team girls need to get their uniforms if they do not have them. Dismissal is at 2:15 p.m. Good luck ladies!

Varsity and JV girls and boys basketball pictures will be THIS WEDNESDAY, Jan. 12, at 8:30 am in the new gym.

January 2023 Professional Development Days: Thursday, January 12, 2023 - Innovation Academy/Local PD Monday, January 16, 2023 - Emergency Operations Plan/Teacher Safety in the Classroom There will be no school on these days.